Free Engineering Analysis Font
This font is customized for Engineering Calculations.
To our knowledge, this is the first font to contain a complete set of superscript and subscript Greek letters, Capital letters, Numbers and Mathematical operators.
The most unique feature of this font is the introduction of subscripts for the superscript range, Or
"SUPERSUBS" as we like to call them.
A few examples of the Font are shown below;

This font is entirely free for everyone to download and use.
Press the download button below to download the "Open Type Font" (.otf).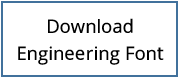 If you already have the XL-Viking Formula Math Display, this font will enhance your experience.
If you dont have the Excel formula display add-in it can be downloaded for free here
Download SuperSubs Character Map by clicking the link below.
Regards
The XL-Viking Team
---